Vintage Direct Primary Care Member Benefits:
Office Procedures Included in Your Membership:
Pap smears
Skin biopsies (extra cost outside of clinic for pathology)
Laceration repairs (stitches or "skin glue")
Skin abscess drainage
Precancerous skin treatments (freeze therapy)
Wart removal
Ingrown toenail removal
Joint injections
Massage Chair Therapy
Trigger point injections
Earwax cleaning
EKGs
Pulmonary Function Testing
Anticoagulation monitoring ("Coumadin testing")
Strep Tests
Pregnancy Tests
Non-Member Services:
We are available for one time sports physicals for non-members at a cost of $50.
We also do Coast Guard and Ship Pilot Certifications for $175.
Dr. Lehmann is DOT-certified medical examiners for commercial driver's license medical certificates. We are happy to provide examinations to non-members at a cost of $100. Exams are free for members.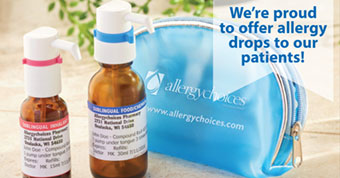 Take control of your allergies with allergy drops, also known as sublingual immunotherapy. We're excited to offer this treatment to our member patients. Call us to see how you can benefit from this custom treatment.